A Leader in Baling from the Beginning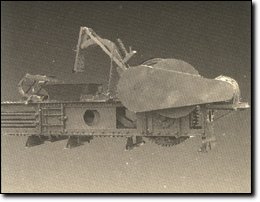 Innovative Design Concepts has chosen to team itself with the leader in baler manufacturing. The very idea of continuous horizontal baling originated with American Baler. The company's roots can be traced to a division of an agricultural machinery manufacturer. During the industrial growth of the 1940's, the need for faster baling of printing trim and other bulky products resulted in the formation of The American Baler Company.

Early horizontal balers were mechanical models operating without the benefit of hydraulics. But, they were still far more advanced than their slower vertical style contemporaries.
Even back then, American Baler engineers were concentrating on smoothing out the directional changes in the baling ram. Note the huge flywheel on the vintage horizontal baler pictured here.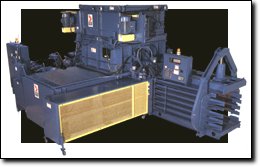 In the years since, American Baler has been responsible for nearly every major advance in horizontal baler development. When hydraulics came into popular use, American Baler introduced a number of innovations, including the Ultramatic low-shock hydraulic system and the first automatic hydraulic bale density control with hydraulic four-way tension.

American Baler led the industry in offering the first proprietary solid state controls. Fully programmable controllers were introduced in the early 1980's. The newest microprocessor is apparent on all of the current balers.

In 1971, American Baler introduced an improved bale tying system to make baler operation completely automatic. The American Baler auto-tier mechanism pulls rather than pushes the bale wire between the bales. Its widely praised compact design places all moving parts on one side of the baler for ease of maintenance.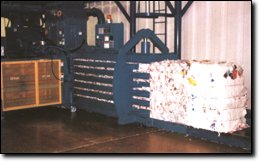 American Baler acquired the Economy Baler Division I 1976, expanding the American Baler line of vertical and horizontal balers to include a variety of smaller capacity models.

Today, American Baler innovation continues to refine baler products that are already considered standards of the industry, and to introduce pacesetting new products as well. Now, more than ever, there is a proven American Baler to fit your needs. And, it's backed by a level of experience and service before, during and after the installation that remains unmatched.

Consistently better bales is the reason Innovative Design Concepts and its people prefer American Baler. Many balers are capable of making bales if they are loaded and cycled in a certain way. An American Baler, on the other hand, is designed to continuously produce one high quality, high density bale after another. With American Baler you save two ways: high density bales reduce your storage and shipping costs; and, because of their design efficiency, American balers reduce your energy costs and wire costs per baled ton of material.

If you would like to receive a full color brochure with suggestions on how to reduce your costs with American Baler's Full Line of Balers, fill out an information request form, or call Innovative Design Concepts at 1-419-483-5556 for your free information packet.
For more Information on American Baler's Full Line of Balers, click here.