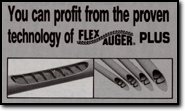 Choose the Flex-Auger system that matches your need. 4 systems to choose from...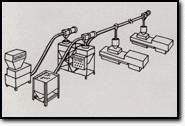 Move bulk materials from an inside surge tank to several processing stations at different conveying rates.

Pre-formed, wear-resistant elbows to turn corners.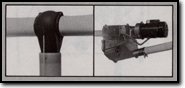 Outlet Drops place where needed. Transfer Drop extends or closed loop.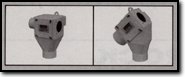 Discharge Heads are available in both 900 and 450 configurations. Includes a material overload switch.
Innovative Design Concepts is proud to be a team player with Brock Industrial Storage. Brock Industrial offers the economical solution to bulk-material conveying systems, the Flex-Auger® Plus Delivery System. Combined with Brock silos and tanks, this system really adds economy to your handling needs. Available in a variety of models, Flex-Auger® Plus offers full-load startups, low maintenance, easy and low-cost installation, and a totally enclosed system to help guard against costly spilling and material contamination.
The economical solution to material conveying needs.
| | |
| --- | --- |
| | Costs less initially to install. |
| | Require less horsepower, saving energy. |
| | Runs on demand, not all the time, saving energy. |
| | Instant full-load start-up saves time. |
| | Runs quieter, reducing plant noise pollution. |
| | Has fewer parts and components for more dependability. |
| | Less risk of repair costs. |
| | Enclosed system eliminates dust and contamination. |
Flex-Auger® Plus increases production efficiency while reducing labor costs, even where the space is limited. Innovative Design Concepts will help you design your complete system, so you can profit from the proven technology of the energy-efficient, reliable, and easy to use Flex-Auger® Plus Delivery System.

Fill out the request form for more information on this simple, reliable, energy-efficient conveying system or feel free to call Innovative Design Concepts at 1-419-483-5556 today.