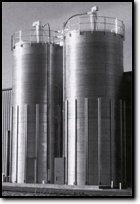 Skirted Storage Silos
Efficiently utilize your storage space...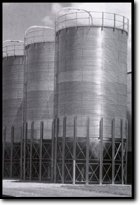 Unskirted Steel Silos
Economical for out- side or in-plant use...




Flex-Auger® Plus proven technology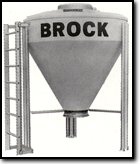 Surge Bins & Tanks hold material inside your facility
If high-quality, low-cost storage systems are what you want, then let Innovative Design Concepts introduce you to Brock Industrial Bulk Storage Silos. This company has specialized in bulk storage systems since 1957 and they offer a variety of silos and bins, including open-legged and skirted silos, day bins, square-cluster bins, surge hoppers, mobile storage tote bins, and more. Brock's corrugated steel silos offer high-strength grade 8.2 boron bolts, or you can get Brock's patented "Black Bolt", which has a polypropylene encapsulated head for added protection against rust.
Brock Corrugated Steel Silos:
| | |
| --- | --- |
| | Save valuable floor space. |
| | Allow bulk purchasing savings. |
| | Open or skirted hopper bottoms. |
| | Meets OSHA specifications. |
| | Over 30-years of service to the industrial market. |
If low-capacity storage is needed, Brock offers a wide selection of process and surge tanks, bins and hoppers. Their polyethylene tanks are ideal for conserving plant space, inside or out, and are designed to hold a variety of materials, including powders, pellets, and some corrosive materials. All systems are compatible with most material handling systems, including Brock's famous Flex-Auger® Plus Delivery System.

Increase bottom line profits with flexible line conveying. Combined with Brock silos, the Flex-Auger® Plus system really adds economy to your material handling needs. Uses less energy than other systems.

If you would like to receive a full color brochure with suggestions on how to reduce your costs with Brock Bulk Storage systems, fill out the information request form, or call Innovative Design Concepts at 1-419-483-5556 for your free information packet.